I have been teaching my turning techniques for over twenty years in France and around the world.
My activity is mainly centered on the creation and sales of unique pieces, but I gladly devote a little of my time to teaching.
The workshops are organized "à la carte" and I only take a maximum of 2 students, in order to create a strong and sustained bond during the workshopp.
These courses focus on advanced techniques, so the trainee is asked to have already acquired the basics of turning.
The goal is to combine pure technique and creation, the different fields open up possibilities for creating turned and sculpted pieces.
If you are interested, please contact me for any info! see you soon …
Cost of the internship for 5 days: 1100 €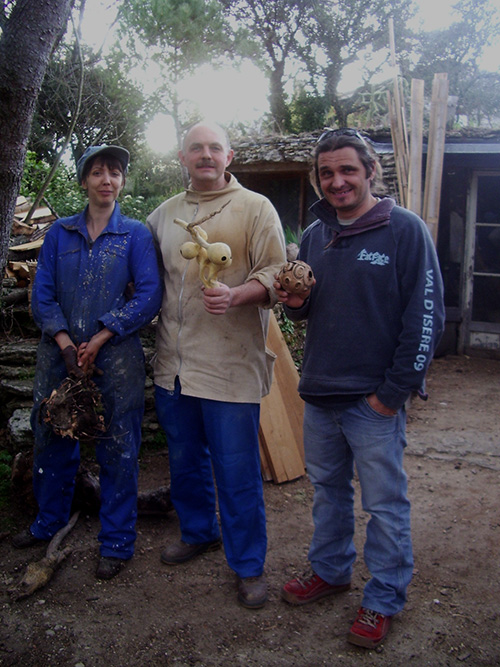 TURNING TECHNIQUES AND SCULPTURAL WORKS ( COURSE N°1 )
The student will turn green wood from my country side : Cherry, Hackberry, Filaire, Alaterne,  Arbutus, Pistachio, Heather and Boxwood roots, Juniper burls.
Technique and practice of the finger nail gouge, effective techniques to produce nice shapes as well as finishing cuts that deserve this name.
On the demand, I can focus on the different hollowing techniques. Open shapes : bowls, salad bowls translucent lampshades. Hollow forms: jars, wooden vases . Very deep hollowings using a platform.
TURNING TECHNIQUES
The trainee will be able to use most of the existing hollowing tools :

The finger nail gouge.
The ring: from the classic ring to the Termit ring.
Martel hook tools and traditional hook
Martel hooks and traditional hooks
The Hamlet ring tool
The Sorby "Customized Mailland" System, comfortable and efficient.
Practice of "flower tools" and "shaping tools" Mailland, as
well as personnal deep hollowing tools.
Turning a wood flower in roots of arbutus, pistachio or heather.
Creation of "' floral forms " to be carved : tree forms, pitcher plant, coral nest,
jelly fish, etc…
Excentring with the Escoulen chuck n°1 "revisited Mailland"
Carving and steam bending
Offcentring with the Escoulen chuck n°3
Offcentring fixing plates with chains and straps
Opportunity to forge your own tools on site: basic techniques
of black smith
CARVING TECHNIQUES ON TURNED SHAPES
Cutting and roughing work with :
Flexible Shafts (Dremel cutting tools, rotary rasps, etc.)
Arbortech and Proxxon
Sanding discs
Work with hand tools :
Japanese saws
Japanese carving knives and Flexcut chisels
Hand-stitched rasps
FINISH AND SURFACE (COURSE N°2)
This course is only dedicated on finishing techniques on carved pieces. The student learns finishing techniques and I coach him or here to finish his or her own pieces with the following techniques :
. Sanding and finishing techniques
. Sanding with the flap sander
. Personal sanding techniques
. Texturing with flexible shaft, micromotors, piercing tool (NSK Presto)
. Texturing and carving with burners, making your own tips.
. Textures by sandblasting and masking
. Colouring with airbrush, coulour pencils, pigments, chemical treatments