I havebeen teaching my turning techniques for over ten years in France and around the world.
My activity is mainly centered on the creation and sales of unique pieces, but I gladly devote a little of my time to training.
The workshops are organized "à la carte" and I only take a maximum of 2 interns, in order to create a strong and sustained bond during the internship. I teach and work at the same time as the intern (s).
These courses focus on advanced techniques, so the trainee is asked to have already acquired the basics of turning.
The goal is to combine pure technique and creation, the different areas taught open up possibilities for creating turned and sculpted pieces.
If you are interested, please contact me for any info! see you soon …
Cost of the internship for 5 days: 1100 €
Alain Mailland has a trainer number if the trainee wants to have his internship funded by an organization.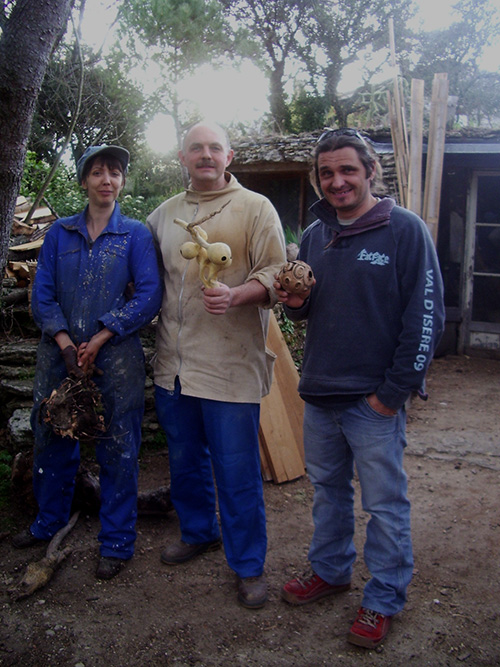 TURNING TECHNIQUES
Mainly on green wood from the region: Cherry, Hackberry, Montpellier Maple, Filaire, Alaterne & Arbutus, Pistachio Terebinth, Bruyère, Boxwood roots.
Technique and practice of flat gouge, effective and fast techniques to form a large part, as well as finishing passes that deserve this name.
Panorama of the different digging techniques. Open shapes: bowls, bowls, standing wooden bowls or crooked wood, translucent lampshades. Closed forms: jars, standing wooden vases or crooked wood. Very deep digging using a digging platform.
The trainee will be able to test most of the existing digging tools. The gouge to dig: rough cutting, air cutting, finishing passes.
The ring: from the classic ring to the Termit ring
Martel hooks and traditional hooks: Jura, Spain, Canada
Rings and hooks with pass limiters: Hamlet, Woodcut, Monroe
The "Sorby Customized Mailland System", the most comfortable of the closed form digging tools west of the Rhône.
Practice of "flower tools" and "shape tools" Mailland
Realization of a flower in magnifying glass of arbutus, pistachio or heather.
Creation of "' floral forms "to be sculpted.
Possibility to forge your own tools on site: basic learning of forging
Various offsets
With the Escoulen mandrel "revisited Mailland"
With large offset and fixing plates with chains and straps
Concentric or radial centering systems.
SCULPTURE TECHNIQUES OF TURNED PARTS
Cutting and roughing work with
• Flexible (Dremel cutting wicks, rotary graters, strawberries, etc.)
• Arbortech and Proxxon
• Sanding discs
Work with hand tools
• Japanese saws
• Japanese sculpting scissors and Flexcut
• Hand-stitched rasps
Steam bending
Sanding and finishing techniques
• Sanding with "fly"
• Personal sanding techniques
• Sandblasting
• Textures by: sandblasting, milling, ultra fast trubine cutting, pyrography, etc.
(this chapter alone can be the subject of a week's internship)
• Partial coloring and discoloration.